Matheran was discovered by Hugh Malet in 1850. The British developed Matheran as a popular tourist resort. The name of the hill station refers to the dense growth of jungle at its head. Matheran literally means jungle on top.

Matheran is the most splendid hill-station in Maharashtra. At an elevation of around 800m (2,625 ft) above sea level Matheran is a hill station located about 100 km from Mumbai. All vehicles (Except emergency vehicles) are banned here. It covers an area of 8 square kilometers in Sahyadris. Its pastoral beauty is especially pristine thanks to a blanket motor transport ban.

Old British-style architecture has been preserved in Matheran and most structures are now heritage structures. Matheran has been declared an eco sensitive region by the Union Environment Ministry (GoI).

The climate of Matheran is very cool. The most unforgettable things about Matheran is deep forest and the waterfalls nearby, especially in rainy season. The beauty of the hill station gets doubled in monsoon. Matheran is truly 'The Best Hill Station in Maharashtra'.

The best season to visit Matheran is between October and May. The Sahyadris attract the monsoon clouds and see heavy rainfalls every year. The hill-station is at its best during the tail-end of monsoons. The season of breathtaking waterfalls, mist covered valleys, dew dripped greenery and floating clouds can be seen in Matheran.

Its dense forests, cool climate, and the lines of the hills scattered on all the four sides has healthy and therapeutic effects.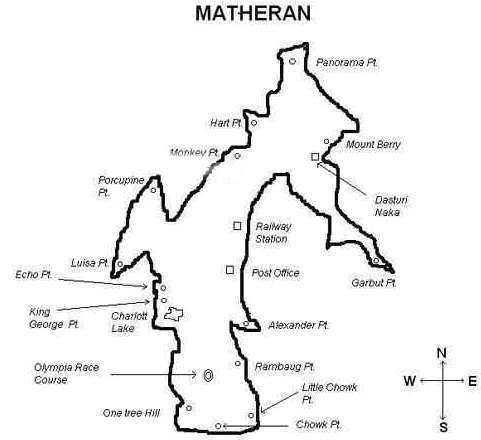 www.matheran.org
There are many places to see in Matheran



Sharlott Lake : The main water source of Matheran 1 km from main market.



Panorama Point : This is 'sun-rise' point. The longest point in Matheran. Almost 6 kms from market. One can see 'Neral' on east and 'Panvel' on the west of the point. The other points in Matheran like Sunset Point, Monkey Point, Maldunga Point and Heart Point etc. are also to the west. If weather is good, you can see Khandala and Bhimashankar ranges as well. Truly, 'the king of all points' is Matheran.

Sun-set / Porcupine Point : Famous for Sunset. A deep forest nearby can be easily seen. 'Prabalgad' can also be seen from this point. Around 4 kms. from main market.

The other famous points in Matheran are Loisa Point , Echo Point , Chowk (One tree Point) , Garbett Point , Eleward Point , Pemastar Park , Navaloji Lord Garden and Cathedral Rock.